Graham Reid | | 1 min read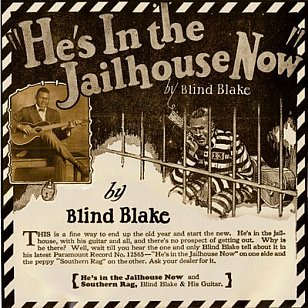 As with many blues artists of his era -- he died in 1934 in his late 30s - not too much is known about the early life of Arthur "Blind" Blake. And at the time of this writing there remains just the one photo of him.
What we do know though is he accomplished a lot of firsts: it seems he was the first to mention "rock" in a song (West Coast Blues from '26); his song Come On Boys Let's Do That Messin' Around of the same year appears to be the first recorded scat solo, and he is widely credited as being the first and foremost practioner of the Piedmont style of playing.
On his song Southern Rag ('27) he also slips into the Creole language associated with the Gullah people of the Georgia Sea Islands. And that is most likely the first recording of that language in a song.
By contemporary accounts he was last at one thing: leaving the bar or the bottle.
He was an heroic drinker, but also quite a prolific recording artist: almost 80 songs under his own name in the six years after '26, and he also appeared on sessions with Ma Rainey, Ida Cox, Johnny Dodds and others.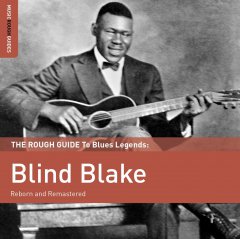 As he shifted around between blues and folk, jazz dance tunes and ragtime blues, he won a wide following although the stories surrounding is death -- a car accicdent, TB or booze? -- suggest he was also pretty good at disappearing into mystery when it suited him.
This song -- a timeless, much covered and adapted song about political corruption and betrayal'n'murder -- is taken from recently released 25 track compilation The Rough Guide to Blues Legends: Blind Blake (through Southbound in New Zealand).
And it comes with a 24-song bonus disc of other ragtime blues artists from the same period such as Blind Willie McTell, Blind Boy Fuller, Charley Patton, Mississippi John Hurt, Blind Lemon Jefferson, Bessie Smith, Robert Johnson and others.
For more oddities, one-offs or songs with an interesting backstory use the RSS feed for daily updates, and check the massive back-catalogue at From the Vaults.
And for interviews, overviews and articles about the blues at Elsewhere start here.