Graham Reid | | <1 min read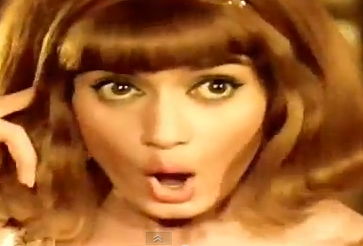 Amazing what you find by accident on aircraft film channels if you forgo watching the US blockbusters or Lord of the Rings again.
On a recent trip between Kuala Lumpur and Melbourne - by Emirates whom I unequivocally recommend, and who mercifully don't have LOTR -- I was flicking through the hundreds of options on Emirates and came across a whole channel of Indian film clips which featured the remarkable voice of playback singer Asha Bhosle who has sung around 14,000 songs in about 20 different Indian and other langages.
She is stil alive (she's in her 80s) but only a few years ago actually appeared as an actress. Until then she had just been the singing voice for dozens of actresses.
In the course of the compilation of clips -- various hilarious or tear-drenched -- was this from the film Jaanwar, in which her voice was paired with the equally famous and prolific playback singer Mohammad Rafi (who died in 1980).
This is so bizarre -- look at the name of the Beatle-like band -- that I just had to post it. Can't find the actual song anywhere, but really you do need to see the clip.
And stick with it. It gets more crazy at the middle.
For more one-offs, oddities or songs with an interesting backstory see From the Vaults.