Graham Reid | | 1 min read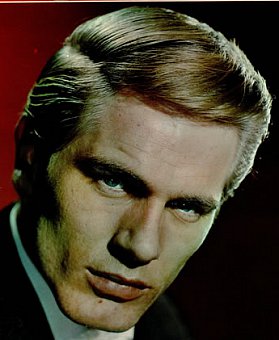 Britain's Adam Faith -- born Terence Nelhams-Wright -- was one of the few late Fifties/early Sixties teen pop stars of his era who managed to survive the limitations of his voice and establish a very creditable career . . . although most of it was in acting.
On his early hits like What Do You Want? in 1959 he affected the Buddy Holly style, but -- despite doing songs like Johnny Comes Marching Home and Lonely Pup in a Christmas Shop -- he and his management felt the winds of changing blowing when the Beatles arrived.
This song is almost Beatles-by-numbers but also has an interesting backstory.
It was written by Chris Andrews as was the similar The First Time, and on both Faith was backed by the Roulettes from Liverpool (two members of which had later success as the one-hit wonders Unit 4+2 and their song Concrete and Clay). Another two went on to Argent and drummer Bob Hendrit -- after Unit 4+2 split replaced Mick Avory in the Kinks
Andrews too enjoyed considerable success, first as a songwriter with a string of hits for Sandie Shaw (Girl Don't Come and I'll Stop at Nothing among them) and then as a solo artist ("I'm her yesterday man . . .")
Faith of course went into theatre, film and television (Budgie) and played the ruthless manager to David Essex's pop star in the film Stardust (the sequel to That'll Be the Day). He knew the part, he'd managed Leo Sayer and according to Sayer managed very well out of it.
Faith died in 2003 aged 62 and although by that time he had long outgrown his pop star status (although retained his looks) it is nice to hear him every now and again, especially when he is being a faux-Beatle as he is here.
For more oddities, one-offs or songs with an interesting backstory check the massive back-catalogue at From the Vaults.