Graham Reid | | <1 min read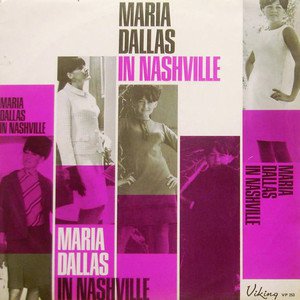 In the minds of many New Zealanders and on the pages of popular histories, country singer Maria Dallas was a one-hit wonder with her version of Jay Epae's very catchy Tumblin' Down.
That song won her the Loxene Golden Disc award in '66 but if she mostly disapeared frpm the pop charts thereafter (although did have a huge hit with Pinocchio four years later) it was because she was never a pop singer, and in '67 had moved to Australia.
Born Marina Devcich in Morrinsville to a Croatian family, she possessed a distinctive voice which could seem low and smokey.
She also went to Nashville -- her natural home -- where she recorded in the famous RCA Victor Studios with producer Felton Jarvis (who was working with Elvis at this period and almost until his death) and those largely anonymous but excellent session players. Could that be Floyd Cramer on piano?
It is from that Nashville album we lift this song which shows another side of Dallas for those who only know her chirpy Tumblin' Down.
I picked this album up for $4 but it's pleasing to note that through the work of recordedmusic.co.nz eight of Dallas' albums are available - including this fine one -- on iTunes and for streaming through Spotify.
Check out Maria Dallas in Nashville. You may be surprised.
For more oddities, one-offs or songs with an interesting backstory check the massive back-catalogue at From the Vaults.