Graham Reid | | <1 min read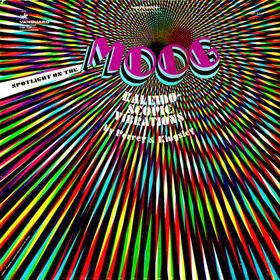 Taken from the album Kaleidoscopic Variations; Electronic Pop Music of the Future by innovators and composers Jean Jacques Perrey and Gershon Kingsley, this might be better subtitled "When Moog players go wonky".
And oddly enough for "future pop" they drew mostly on material like Umbrellas of Cherbourg, Lover's Concerto, Winchester Cathedral, the theme from The Third Man, Moon River and other such familiar pieces from the recent past.
Their originals hardly broached the idea of what future pop might sound like, other than it being created on Moog or the Jenny Ondioline which is a small keyboard with the the capacity to vibrate notes.
Some of the album isn't without interest but hilarity is guaranteed by this bizarre treatment of the Frank Sinatra hit.
It's as if the robots have taken over the laboratory, got drunk on methyl alcohol and turps, and started fooling around with the Moog.
I for one am glad that "future pop" turned out rather more interesting than this.
For more oddities, one-offs or songs with an interesting backstory check the massive back-catalogue at From the Vaults.