Graham Reid | | <1 min read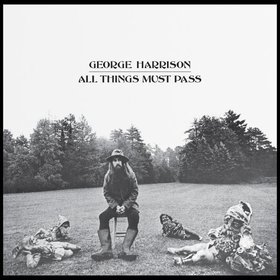 One of the great things about being filthy rich (like George Harrison was post-Beatles), at last having time on your hands and your own studio in your mansion (although admittedly he did have to do a lot of work on the place which was in derelict condition) is you get to fool around.
And clearly from the evidence of this five minutes of playing around with vocal effects, slide guitar and so on, Harrison really did get to fool about and enjoy himself.
Of course, the end result of this noodling came to nowt . . . although somewhere along the line at the time he also spent days and days refining his songs into the album that was All Things Must Pass.
So messin' about like this was probably well deserved downtime.
Almost sounds like he was having fun, which must have been welcome after those closing overs of the Beatles, the looming litigation, sleeping on the floor in his newly purchased Friar Park because there were few habitable rooms and functioning facilities . . .
For more oddities, one-offs or songs with an interesting backstory check the massive back-catalogue at From the Vaults.