Graham Reid | | <1 min read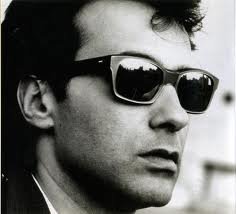 Some simple pop songs -- often by one-hit wonders -- have as much impact as the most crafted and considered serious work of superior writers.
So it is with FR David and this hit.
David was actually Tunisian-born Elli Robert Fitoussi who lived in France and during the late Sixties and Seventies he was trying hard to get a break in various bands and a stint with Vangelis.
But it was this simple, plaintive song -- delivered in that distinctively high voice -- which was a chart-topper right across Europe and took the perma-shades David to international success . . . which wasn't something he could replicate unfortunately.
He had a decent career as a songwriter . . . so there's an irony in "words, don't come easy to me".
For more oddities, one-offs or songs with an interesting backstory check the massive back-catalogue at From the Vaults.
.