Graham Reid | | <1 min read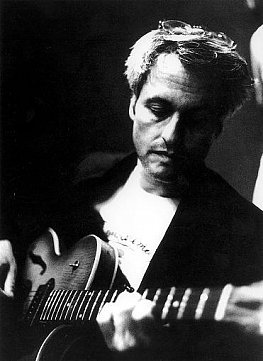 Marc Ribot has long been the guitarist of choice for Tom Waits, Elvis Costello and others, but he was also in a couple of interesting if not influential bands of his own.
Before being one of the Lounge Lizards (alongside John Lurie), the New Jersey-born Ribot played in bands behind touring soul acts (Wilson Pickett etc) but it was his work with Waits from the mid Eighties which brought hm to mainstream attention.
This version of the Jimi Hendrix classic however comes from his debut solo album The Rootless Cosmopolitans which included jazz clarintettist Don Byron and guitarist Arto Lindsay who had also been a Lounge Lizard (and was in the Golden Palominos).
The album also included a strange and short take on While My Guitar Gently Weeps and a treatment of Ellington's Mood Indigo.
But we won't go there right now, this might be enough for the moment.
For more oddities, one-offs or songs with an interesting backstory check the massive back-catalogue at From the Vaults.
.