Graham Reid | | 1 min read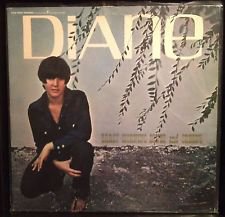 The recent Record Store Day made a major gouge in my bank account, but even so there were some accidental bargains in my bag.
While waiting in the queue at Southbound Records with some pricey gems I found myself by their discount bin and so, idly flicking through the selections, I . . .
Yes, the album by Diane Hildebrand made itself known to me for a number of reasons: first because I'd never heard of her, then because she was on the great if wayward Sixties/Seventies label Elektra run by Jac Holzman, then because it was engineered by Bruce Botnick (think. the Doors) and finally because the title track Early Morning Blues and Greens seemed vaguely familiar.
I recognised none of the muscians on the album, nor the titles of the other 10 songs, but for $4 how could you go wrong?
Not at all, as it turned out.
This was Hildebrand's sole album and that title track had been covered by the Monkees on their Headquarters album. More than that though, she turns out to be a fairly decent folk-rock singer-songwriter with just enough psychedelia in her backings (notably from guitarist Colin Cameron as on this trippy Jefferson Airplane-like track) to make her more than merely "interesting".
And a quick websearch turned up this excellent article by the respected Richie Unterberger who filled in her background for an expanded CD issue of this album. Turns out she also co-wrote the Monkees' Aunty Grizelda with Jack Keller, and the theme to The Flying Nun with him. He co-wrote Come Looking For Me on this album.
After that the story peters out a bit but -- given she was signed to Screen Gems and part of the LA studio circuit -- it may be she is the same Diane Hildebrand who composed music for the Partridge Family, various other television series (Bridget Loves Bernie, Ghost Busters) and had one of her Monkees' song (the urgent Goin' Down, see below) in Straw Dogs and Breaking Bad.
So she might not have a had a stand-out recording career, but it wasn't without interest and even longevity.
And I'd pay $4 to know that.
For more oddities, one-offs or songs with an interesting backstory check the massive back-catalogue at From the Vaults.
.