Graham Reid | | <1 min read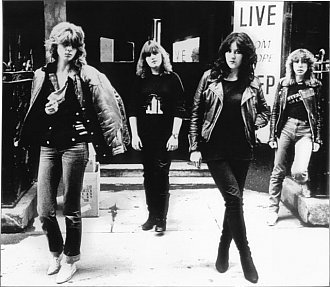 In the catalogue of hard rocking women, Girlschool out of Britain deserve to be counted in there alongside Joan Jett, the Runaways and a few select others.
They arrived as part of the New Wave of British Heavy Metal in the late Seventies alongside Saxon, Tank, Iron Maiden and others, but were most often associated with Motorhead as their mainman Lemmy was a great supporter of Girlschool.
Over time -- and they are still going -- they had more membership changes than they had albums, but they barely paused for breath and not only outlasted but sonically outstripped many of their peers.
The evidence is on this b-side (or on every early album) where they cover ZZ Top's Tush and of course, there being a gender flip, give a somewhat different meaning for a different audience. This was on the flipside of their 10" single Hit and Run (the title track off the album).
Play it loud.
For more oddities, one-offs or songs with an interesting backstory check the massive back-catalogue at From the Vaults.
.