Graham Reid | | <1 min read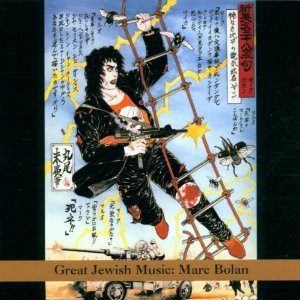 In the course of researching the folksy-hippie sound of Tyrannosaurus Rex of the late Sixties, before they morphed into the brilliant pixiefied glam rock of T. Rex, I was turning up some interesting oddities in their catalogue.
But when I got to their pivotal song Ride a White Swan with which Marc Bolan announced a whole new Rex -- electric, poppy, teen-directed -- I stumbled on this version of it by New Zealand's Tall Dwarfs, which I admit I'd never heard before.
It came from a tribute album Great Jewish Music; Marc Bolan and others on it were Art Lindsay and Marc Ribot (Children of the Revolution), Kramer (Get It On), Sean Lennon and Yuka Honda (Would I Be the One) and Buckethead (20th Century Boy).
Quite the oddity in a cover (pictured) which makes absolutely no sense at all.
Here are Tall Dwarfs, for your listening pleasure.
For more oddities, one-offs or songs with an interesting backstory check the massive back-catalogue at From the Vaults.
.