Graham Reid | | <1 min read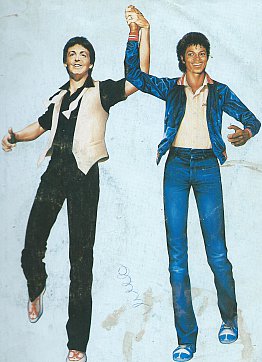 Okay, at a time when Paul McCartney's whole recording career has been given serious consideration at Elsewhere, this seems frivolous and cruel.
But fun.
This odd song appeared on B-side of the single of Say Say Say -- McCartney with Michael Jackson -- and again on the 12" remixes of SSSay by Jellybean.
And perhaps that's all that needs to be said about it . . .
Except that the sleeve featured this hilariously bad illustration of the former pals (they never spoke again after Jackson bought the Beatles catalogue) . . . and to wonder what George Martin the producer must have been thinking.
He'd been there for all those classic McCartney songs in the Beatles era and beyond but now was sliding the faders on this?
Ah well, truth to tell he'd heard worse from the same source.
And the clip for Say Say Say could be read as an unconscious reference to what snake-oil salesmen they had all become by this time.
For more unusual music or songs with a back-story see From the Vaults.