Graham Reid | | <1 min read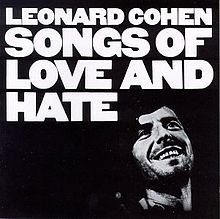 In the course of sometimes interesting, occasionally haywire Q&A session after the screening of the film 20,000 Days on Earth in Auckland, Nick Cave was asked if he'd ever met Leonard Cohen and what his favourite Cohen song was.
He said he hadn't . . . but then offered an insightful response to the second part of the question.
"When I was growing up in Wangaratta in Australia I felt very uncomfortable. I grew up in the country as a child and I loved it, but there was something about the way Australia was, that I felt very uncomfortable in this town.
"I went around to a friend's house and his sister had this record and she put it on and gave me the cover. It was Songs of Love and Hate and she put on the first song Avalanche and for the first time I felt this kind of discomfort fall away and I heard something.
"I'd never heard before, it was to do with secrecy and darkness.
"I just fell into this man's voice. It was an incredibly powerful moment for me.
"That particular song Avalanche is an incredible song anyway.
"But that particular album is one of those small collection of songs that had this particular effect on me."