Graham Reid | | <1 min read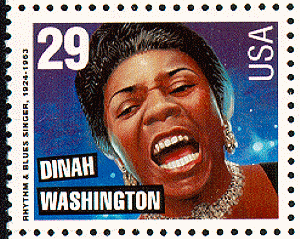 The Gershwin brothers' Embraceable You, written in 1928, became a jazz standard and down the decades has been covered by an extraordinarily diverse range of artists from Nat King Cole, Doris Day and Judy Garland to Ornette Coleman, Charlie Parker and Art Tatum.
Oh, and Liberace, Frank Sinatra and more recently Rod Stewart on his Great American Songbook Vol 3 album in 2004 . . which won him his first Grammy.
Billie Holiday's version from '44 was acknowledged by the Grammy Hall of Fame the following year.
This version by the great Dinah Washington from early '46 found her with trombonist Gus Chappell's small orchestra and while it is a shiver short of Billie Holiday's version it is still a fine reading by one of the great post-Billie voices in American music.
Of course, Dinah Washington also sang the raunchy Big Long Sliding Thing and Evil Gal Blues.
For other one-off songs with a bit of history or an interesting back-story see From the Vaults.