Graham Reid | | <1 min read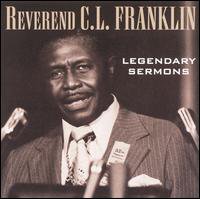 The Reverend C.L. Franklin has been mentioned previously at Elsewhere, but only in regard to his daughter Aretha.
But Clarence LaVaughn Franklin (1915-94) deserves a mention here in his own right because dozens of his powerful, metaphorical and musical sermons in Detroit were recorded by Chess . . . and he was a man who loved jazz and r'n'b. He was quite a charismatic figure who had been busted for marijuana and enjoyed a good party.
You gotta sin to get saved, as they say.
His wife walked out on him and their five children when Aretha was only six and in later life Aretha never spoke of what her family life had been like. Some said the fact her father pushed her to perform at such a young age (her first album was a live recording in the church when she was 14) was exploitive.
But he also supported her when his congregation complained that she had abandoned the church for secular music. We know, of course, she never really did.
But the Rev himself could also preach up a fiery, rhythmical sermon such as this. And you get to interpret the meaning of it all for yourself as it goes on.
Until he tells you at the end what he means.
Tell it, tell it.
For other one-off songs with a bit of history or an interesting back-story see From the Vaults.