Graham Reid | | <1 min read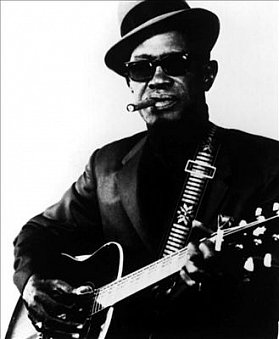 Bob Dylan aficionados should get a copy of this on 33 1/3rpm record and play it at 45, or at about 40rpm.
And lo!
It sounds perilously close in many ways -- an inspiration if nothing else -- for Bob's Leopard-Skin Pill Box Hat.
Dylan had seen the great Lightin' Hopkins on television a few years before he [Dylan] arrived in New York to haunt the downtown folk clubs and soak up influences from everyone he could.
It may be also that he caught Lightnin' live at this time and the old man's simple style -- Hopkins a cripplingly ancient 50 years old at the time -- certainly appealed to him.
It's not just the style of the song -- embellished by a more cynical and satirical Dylan for his Pill Box on the Blonde on Blonde album of course -- but there are lyrical similarities too: "Well I see you ridin' around in your brand new automobile" is but a snifter away from "Well I see you in your brand new leopard-skin pill box hat".
And listen even to "old" Lightnin's little guitar passages and those on the Dylan song . . .
As Dylan once said, "amateurs borrow, professionals steal".
You can hear the Dylan song free here.
There is a tidal wave of Bob Dylan at Elsewhere starting here. Be very afraid.
For other songs with an interesting backstory, oddites and one-offs get the daily updates From the Vaults by using the RSS feed