Graham Reid | | <1 min read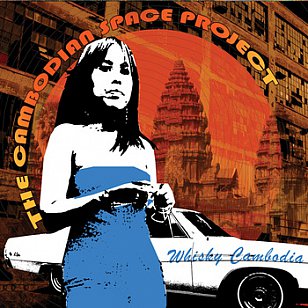 No, and thanks for pointing it out: We didn't go too deeply into the vaults for this one. It came out about five years ago on the album of the same name by this group which sometimes covers classic rock songs (Creedence's Proud Mary, House of the Rising Sun etc) in its own idiosyncratic style with Srey Thy singing in her native language.
That's the gimmicky end of this group which was founded by Tasmanian musician Julien Poulson when he heard Thy singing covers in a bar in Phnom Penh in 2009.
Of more interest is when they cover Cambodian songs of the Sixties or, as in the case of this remarkable song, when Thy writes originals.
The album version is so long (about 10 minutes) that it won't load onto Elsewhere so I've just found a You Tube clip of it which gives the flavour.
With its drone and low mood in the backdrop it sounds like some eerie revision of the Doors' The End, but Thy's soaring vocal elevates it into the stratosphere. It appeared on the recent and much recommended compilation The Rough Guide to Psychedelic Cambodia of 2014 alongside great voices from the Sixties. (And the bonus disc with that collection was a whole Cambodian Space Project album).
Just click the video -- there are no moving images -- and lie back.
For more one-off, oddities or songs with an interesting backstory see From the Vaults.