Graham Reid | | 1 min read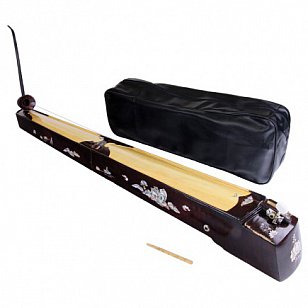 The albums in the Rough Guide series can offer world music as a kind of portal into a very different culture and consciousness.
And even when world music artists take on tunes which we might recognize -- perhaps even especially when this happens -- it can be like being beamed into an alternate reality.
This piece -- a live treatment of Ghost Riders in the Sky as if re-imagined by the BBC Radiophonic Workshop transported to Hue or Hanoi -- was the final piece on the excellent and diverse Rough Guide to the Music of Vietnam.
And it's not just that is sounds different, it is why it does.
Dan Bao Vietnam is a family band with two daughters on wooden percussion, the son on a Casio keyboard and dad playing the dan bao (sometimes dan bau), a one-string traditional instrument with a wooden soundbox where the pitch is changed by the ball of thumb and the sliding sound achieved by bending the lever arm.
The guy who compiled the album is Paul Fisher of farsidemusic.com in Kent and for two decades he has been releasing and collating Asian music of all persuasions (jazz, rock, traditional, pop etc). He is the go-to guy for all your needs in this vast world of Eastern music. And he has a catalogue of Asian DVDs!
This version of the old country'n'western classic was recorded next to a swimming pool on Saigon's harbour and the audience was mostly Japanese tourists.
Stick with it to the end, it just gets better and more unusual. (It also appears on this excellent album of Vietnamese street music).
For more one-off, oddities or songs with an interesting backstory see From the Vaults.