Graham Reid | | 1 min read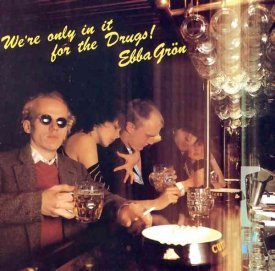 The Abba Museum in Stockholm is always worth a visit, even if the band didn't mean much to you. The costumes, interactive sections, mixing desk, photo opportunities and awards – as well as the new freakishly life-like, fife-size wax models – are all diverting.
But their museum also houses a Swedish Music Hall of Fame which is worth the price of entry in itself. Although driven by international trends (rock'n'roll, the Beatles, prog, punk and so on) the Swedes really found their voice in the past couple of decades, and all of that is well represented.
However on a recent trip something disturbing had happened.
The shop which previously sold lots of CDs and books about many of the Swedish acts was now almost exclusively devoted to Abba.
Well, it's their museum so I guess they can do what they like . . . but by the end of the Swedish Museum part I had a list of artists whose records and CDs I wanted to buy, as I expected to be able to do as on a previous visit when I picked up an excellent garageband collection and other such things.
As far as I could see it was Abba keychains, fridge magnets, books, CDs and so on.
There were only two non-Abba CDs available, and they were both weird.
One was the soundtrack to the film of famous Swedish jazz singer Monica Zetterlund (although she didn't sing the songs) and the other was . . .
A double CD entitled Samlingen by a group called Ebba Gron, and from the back cover photo I took them to be a punk-thrash outfit from the late Seventies.
The girl at the counter didn't have a clue about them.
Which is why I bought it.
More like a white-hot rock'n'roll band and the Clash than a reductive punk band, they certainly deliver like they mean it. Although, of course, only those fluent in Swedish will have the slightest idea of what they are banging on about (politics definitely, disenchantment in general). But it's worth remembering that among the few gigs in their short-fuse lifetime, the Sex Pistols actually played in Sweden.
Hence Ebba Gron, perhaps?
This – a play on Frank Zappa's We're Only In It For the Money – was the title track of their debut album.
(You can read more about Ebba Gron, who are actually very interesting, here)