Graham Reid | | <1 min read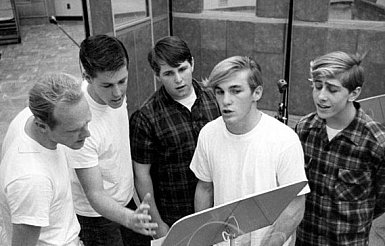 In our recent interview with Brian Wilson of the Beach Boys on the occasion of the 50th anniversary of their classic Pet Sounds album, we noted that while accepting he was the genius in the band he also needed the other Beach Boys at that time.
Various members of the famous Wrecking Crew may have provided the instrumental backings and helped Wilson realise his expansive vision of cosmic pop, but when it came to the vocal parts the Beach Boys were impeccable.
When they were just starting out Wilson had schooled them to sing close harmony and layer their vocals like the Four Freshmen and other doo-wop outfits, and that is what he could rely on for Pet Sounds and of course Good Vibrations and the aborted SMiLE project.
The evidence of the Beach Boys distinctive sound comes in the expanded Pet Sounds box set where there are 11 vocal-only track.
This is just one of them . . . and when the voices are isolated like this you can hear just how remarkable they were.
For more oddities, one-offs or songs with a backstory see From the Vaults.