Graham Reid | | 1 min read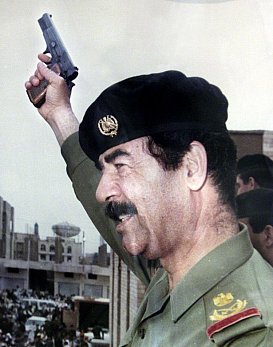 War is good for business (if you are part of the military-industrial complex), but also a fine time for stay-at-home patriots to get bellicose . . . among them songwriters who can reduce heroism to cliches and danger to duty.
When Saddam Hussein invaded Kuwait in '90 the American songs about it came thick and fast.
Sometimes pretty thick.
There was Penny Gilley's Line Drawn in the Sand and Insane Hussein by Teddy Manthel and Friends, and some cheerleading Vietnam-era songs were reissued or brushed off for a new time.
And there was this by Hank Williams Jr who posed on the sheet music in full camouflage gear.
Yeah, sure.
His timing was excellent however, this piece of doggerel went straight into the country charts not long after the invasion and Williams' threat "the desert ain't Vietnam and there ain't nowhere to run" proved terrifyingly prophetic when Saddam's troops fled back home . . . and were wiped out in that hideous massacre along what is now known as the Highway of Death.
Williams' song is a blunt blade taken to the issue, but at heart -- however we might deplore it -- the message proved to be tragically true.
And then there would be other conflicts in the Middle East, which -- to this day -- have not been resolved quite so quickly, simply or with such bullish militarism as Williams advances here.
The likelihood of finding this songs is remote but it has been given a second life on a remarkable box set; Next Stop is Vietnam; The War on Record 1961-2008.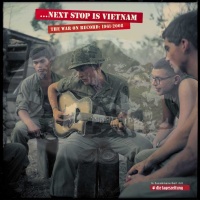 This massive, 13 CD set of songs, radio spots and recordings made in-country by soldiers brings together all the most well known songs about the war in Vietnam alongside many dozens of schmaltzy, obscure, seldom-heard and strange records which had the war/soldiers/patriotism/dissent as their theme.
With a an accompanying book (not a booklet) of photos, potted history and notes on the songs and artists this is one magnificent album-sized monster of a history lesson pulled together by Bear Family Records out of Germany (here).
And as Donovan once sang, "and the war drags on . . ."
Elsewhere has quite a lot about encounters in Vietnam, and its music, people and politics starting here. As well as songs both pro and agin that never-declared "war".
For more one-offs, songs with an interesting backstory or just plain odd things see From the Vaults.