Graham Reid | | <1 min read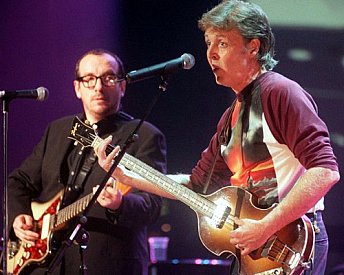 Elsewhere recently essayed at length the expended reissue of Paul McCartney's album Flowers in the Dirt from 1989, the album the returned him to critical favour after many lesser albums in the previous decade.
In part that was because McCartney spent more care and attention on the songs, and also invited Elvis Costello to come to his writing studio in Sussex to see if they could work with each other.
They certainly did and out of the sessions came about a dozen songs, most of which would turn up on Flowers in the Dirt and subsequent McCartney and Costello albums.
Some of the songs -- notably My Brave Face on Flowers in a version where Costello didn't appear -- tapped into the early Mersey style of the young Beatles.
You can hear it in this previously unreleased demo with Costello singing which comes with the expanded Flowers box set.
It's there in the harmonies but more noticeably in the guitar passages by Kevin Armstrong who sounds like he's challenging the Beatles' early peers in Liverpool, the Searchers, the Merseybeats and, yes, the Beatles somewhere between A Hard Days Night and Beatles for Sale.
For more oddities, one-offs or songs with an interesting backstory check the massive back-catalogue at From the Vaults.