Graham Reid | | 1 min read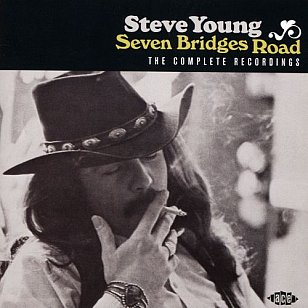 When Steve Young died in March last year at 73, there were hardy headlines about it. Young's many albums – about a dozen more in all – had rarely been in any country collection but his passing certainly engaged a few writers who took the opportunity to essay this songwriter who put himself on the frontline of the Civil Rights movement (singing early and politically pertinent Dylan songs in Birmingham, Alabama in '62-'63), gathering admirers for his original songs (Van Dyke Parks, Tim Hardin) and delivering his excellent Rock Salt & Nails (with James Burton, Hal Blaine, Gene Clarke, Gram Parsons and others sitting in) which came out in '69 to consumer indifference.
The follow-up Seven Bridges Road – the title track had previously appeared on RS&Nails – was recorded in Nashville and included his superb Montgomery in the Rain, Lonesome Ornery and Mean (covered by Waylon Jennings) along with other strong originals and Merle Haggard's I Can't Hold Myself in Line.
Again, aside from acclaim by his songwriting peers, there was very little consumer action.
He bought back the master tapes and a tiny company in New Mexico, Blue Canyon Records, reissued it just to keep the songs alive.
Seven Bridges Road however had a life beyond Young with covers by the Eagles, Dolly Parton and Joan Baez among others.
It is a mystical and mysterious song always worth revisiting which is what we do here with his original version (not the embellished '81 version).
This is taken from an Ace reissue of the album (through Warp/Border in New Zealand) which comes with excellent liner notes in the booklet by Garth Cartwright and adds 10 extra tracks from that period.
He also came to New Zealand in the Eighties (through Real Groovy) and was a modest but compelling performer.
An outlaw before the Outlaws, and a writer with head and heart.