Graham Reid | | 1 min read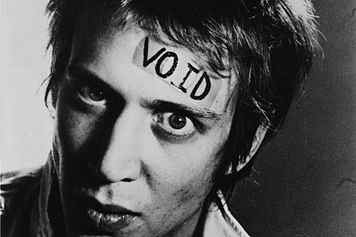 Some generations get labels foisted on them – Baby Boomers, Gen X and Y etc – but Richard Hell (born Richard Meyers) offered this exciting, self-defining statement of a generation which captured the outsider, almost nihilistic mood of many young New Yorkers at the time.
Hell was no newbie either, he'd been around long enough to feel this going-nowhere life.
He'd been in the Neon Boys at the start of the Seventies alongside Tom Verlaine and that band gradually morphed into Television with both of them contributing material. But while Verlaine's guitar playing had the hallmarks of a distinctive genius emerging, Hell's bass playing was little more than serviceable and the falling out was inevitable.
After he was nudged he hooked up with Johnny Thunders in the Heartbreakers but by '76 needed his own vehicle and found it with the Voidoids which were guitarists Robert Quine (another nascent genius and Velvet Underground aficionado) and Ivan Julian, with drummer Marc Bell (later to join the Ramones).
When this anti-anthem was released the Voidoids still hadn't played live but it had been no stretch to knock it off in the studio, it had been part of Television the Heartbreakers' sets so Hell was primed to sneer it out and, by doing so, deliver an archetypal punk classic.
His contribution to British punk was also in the trickle-down of the clothes and attitude he had adopted. When Television supported the New York Dolls in '75 as they were staggering to close, the latter's manager was Malcolm McLaren who clocked Hell's ripped t-shirt held together by safety pins, his badly cropped short hair and tight pants.
He took the idea back to Britain where he would "manage" the Sex Pistols.
In sound and style, Richard Hell – who would retire from music in the mid Eighties to become a respected writer/poet – gave punk its defining ground zero . . . and a name.
Late last year a 40th anniversary Deluxe Edition of the subsequent Blank Generation album appeared with an extra disc of a live set and outtakes.
Punk as consumer commodity certainly, but still pugnacious and raw.
For more oddities, one-offs or songs with an interesting backstory check the massive back-catalogue at From the Vaults.