Graham Reid | | 1 min read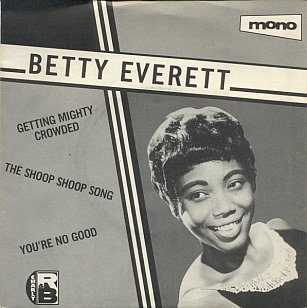 With the great Willie Dixon on bass and other players who turned up on Ike Turner's Rhythm Kings sessions, the young Betty Everett nailed this original for the Cobra Records label in Chicago, a label that tried its hand at early rock'n'roll but made its reputation with great blues and rhythm'n'blues artists like Otis Rush, Sunnyland Slim, Magic Sam and Ike Turner's various lineups (pre-Tina).
Much of the label's output was tougher than this song (here in an alternative take) which prefigured much of the soul style which would soon enough come out of Detroit on the Motown label, albeit with a stronger backbeat.
But Everett – in her late teens and just in from Mississippi at the time of these sessions – brought the church of her background with her and although she didn't have much initial success she hit gold later in her career.
In '64 her Shoop Shoop Song (It's In His Kiss) made a greater ripple going top 10 on the main US charts and number one on the Cashbox R'n'B charts.
It would later be covered to even greater success by Cher among many others.
But the swing of Red Holloway's r'n'b sax, the blues touches of Wayne Bennett's guitar and her pleasantly light but assured vocals here hit a point between soul and r'n'b.
If Cobra was eying the emerging teen market as they appeared to be doing when they signed her, this more adult song wasn't going to be the one to do it.
That seemed to be the purpose of the earlier My Love.
But alongside her version of Clint Ballard's You're No Good for the Vee-Jay label (later covered by Linda Ronstadt), this one suggested a very different and more mature talent in the wings.
In one of those odd ironies, other songs she sang such as I Can't Hear You and Getting Mighty Crowded were also covered by others (Dusty Springfield and Elvis Presley respectively).
She was a gateway artist, we might say.
For more oddities, one-offs or songs with an interesting backstory check the massive back-catalogue at From the Vaults.