Graham Reid | | <1 min read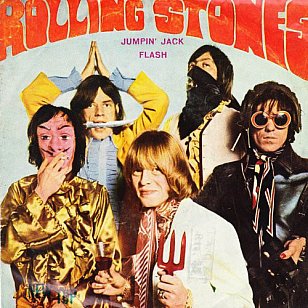 This being the 50thanniversary of the Rolling Stones' single Jumpin' Jack Flash which took them back to their tough r'n'b roots (along with nudges to county and folk on the subsequent Beggar's Banquet album) we go here – without making any claims – to a version of JJFlash.
It was recorded for the project Stones World by saxophonist Tim Reis who pulled in artists from across the globe and of various styles (Puerto Rico, West Africa, France, Portugal, Japan and so on) and even had Keith Richards guest on Break It Down with Japanese players, Jagger singing Hey Negrita with the Africans and so on.
Other well known guests included Bernard Fowler, Eddie Palmieri, Chuck Leavell, Charlie and Ronnie, Lisa Fisher . . .
In fact most Stones appeared somewhere on the double disc, but the real meat came from the international players who took the Stones songs in directions they better understood.
As on this treatment of JJFlash with a flamenco group and dancer from Madrid (Sara Baras) recorded in New York . . . and with Fischer on vocals.
It is idiosyncratic to say the least.