Graham Reid | | <1 min read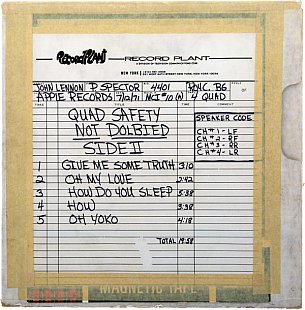 One of the outtakes on the expansive Imagine box set, this may have a couple of bum notes from the period ("son of Tricky Dicky", a reference to Nixon) but there are plenty of people around right now in these post-truth days – where lies and not denied but doubled-down on – for whom this will strike a chord.
With the slide guitar overdubbed by George Harrison, this has a constrained anger which sounds utterly genuine and – along with his snipe at McCartney on How Do You Sleep?, the brooding I Don't Wanna Be a Soldier Mama and the finger-pointing Crippled Inside – were the flipside to the paean for peace on the album's title track and the various love songs.
A few of these haven't aged well but this one seems increasing relevant.
For more oddities, one-offs or songs with an interesting backstory stay tuned to From the Vaults.