Graham Reid | | 1 min read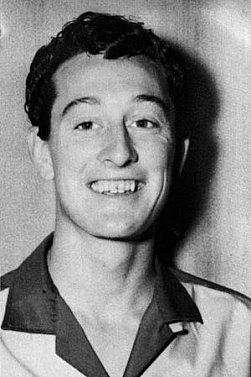 In the year before he became famous with the hit That'll Be the Day in mid '57, Buddy Holly – who was killed in that plane crash 60 years ago in February – unsuccessfully recorded a number of songs in Nashville.
Signed to record deal he and his ring-in band went to that hub of conservative country to try to record music which was part-country but influenced by the rise of Elvis Presley.
In January 1956, 18 months before fame struck, they recorded almost a dozen songs with the famed producer Owen Bradley (among them a lame first run at That'll Be the Day) but it seems the magic wasn't happening.
Drummer Jerry Allison would later say that he didn't even remember which guy Bradley was, "they were the biggies and we were just dips. We didn't groove with them or anything. We were just sort of afraid of them".
And Nashville had no idea what to do with these Texans who seemed nominally country but clearly weren't. It didn't help that many of them didn't like Holly who they found arrogant (read: he knew what he wanted) and that Buddy hadn't yet learned the difference between having a record deal and having a hit.
Among the songs recorded at the first session was Blue Day Black Nights which is emblematic of the problem. It is clearly a country song but there is a light rock'n'roll backbeat added and Holly certainly sounds distinctive. But the recording is thin and, despite the addition of echo which gave Elvis' Sun sessions such vibrancy and a live feel, it sounds like a band in an empty room. Sonny Curtis' guitar solos lack the bite and fire of Carl Perkins or Scotty Moore (in Elvis' band) and Allison's drums and the bass playing of the short-lived band Don Guess are under-recorded.
These sessions never really worked (on You Are My One Desire he goes for an Elvis-style ballad) but this song – written by jobbing writer Ben Hall – Holly's first single, died a death.
But after the re-recorded That'll Be the Day became a hit the songs from those early sessions were scooped up for the cash-in album That'll Be the Day of 1958 which was to be the final album released in his lifetime.
It's not a great song but in it you can hear that moment when country was nudging into rock'n'roll, even if the protagonists – artist and producer – didn't quite know where they were going.
For more one-offs, oddities or songs with an interesting back-story see From the Vaults.