Graham Reid | | 1 min read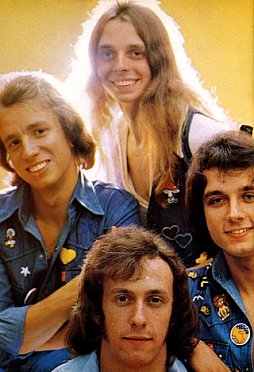 Interesting story here in that UK/European and US audiences probably know very different versions of this song which took short-lived (but inevitably resurrected) British glam-rockers Hello into the top 10 in Britain.
The song, which is pretty simple, was written by Russ Ballard, formerly the guitarist in Argent (former Zombie-man Rod Argent's band). He'd previously provided Hello with their debut single You Move Me in '72. It did nothing but the band's cover of the old Exciter's hit Tell Him from the early Sixties got them a chart foothold in '74.
By the following year after another couple of failed singles they were on the hunt and Ballard re-appeared with this song for which he'd written down the title, and not much more, on a flight to New York.
The rest of the lyrics were made up in the studio and the band stomped on trestle tables in their platform boots to get that "New York groove".
That is the version British and European audiences are most familiar with.
But in '78 when guitarist Ace Frehley of Kiss was looking for material for his solo album – when all the members did their simultaneously-released solo outings – he somehow heard the song (he says he doesn't recall the Hello version, although this was a period when he wasn't recalling much) and decided it was perfect for him, New Yorker that he was.
It was the surprise hit from the various Kiss solo albums, took Frehley to number 13 on the US charts (it went nowhere in the UK) and gave him a signature song.
There's not a lot to it as Ballard admitted later: "I guess it surprised me because it's so incredibly simple . . . [it] still gets played at major sporting events in the city like at Giants Stadium."
The other odd thing is that, given Frehley was the guitarist in Kiss, the song doesn't have a guitar solo.
And weren't his solos his trademark?
Here's Ace's version.
New York Groove, by Ace Frehley