Graham Reid | | <1 min read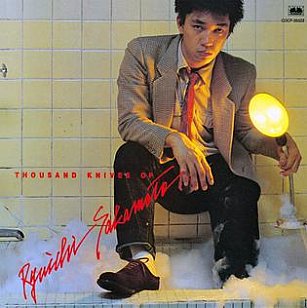 A little over four decades ago the Japanese composer Ryuichi Sakamoto of Yellow Magic Orchestra released his debut solo album Thousand Knives Of Ryuichi Sakamoto.
It was at the time – but perhaps sounds a little less so today, vocoder is a bit passé – an innovative and ground-breaking collection of half a dozen pieces on multiple synthesisers (and some traditional instruments).
In places it is pure prog-rock, in others more akin to the sound design for a widescreen nature documentary (Island of Woods). And it goes left-field into acoustic piano which betrays his training in composition.
Although it is available on Spotify here as a hardcopy album (CD, vinyl) it hasn't ben available for some considerable time.
Recently however – remastered by Seigen Ono – it reappeared (on We Want Sounds through Southbound) so we bring it to your attention via this quirky piece.
Sakamoto (and YMO) went on to greater things.
For more oddities, one-offs or songs with an interesting backstory check the massive back-catalogue at From the Vaults.