Graham Reid | | <1 min read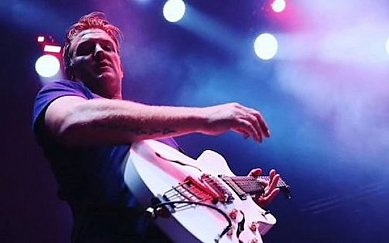 Elsewhere always liked the Californian band Romeo Void – who sounded very New York/New Wave in the early Eighties – and especially on
their sole hit Never Say Never
.
It was written by singer Debora Iyall and the come-on hook "I might like you better if we slept together" was written for the band's bassist Frank Zincavage, although she didn't tell him that until 2000 when he was preparing to have major surgery.
It's an angry yet sexual song – used in soundtracks for Grand Theft Auto; Vice City and Dodgeball among others – and it was a surprise when QOTSA included their cover of it among the extra track on the Deluxe reissue of their Rated R album (alongside their version of the Kinks' Who'll Be The Next in Line) in 2011.
Their version isn't as edgy as Romeo Void's and really misses the brusque saxophone of Ben Bossi on the original.
But knowing the fan base QOTSA have, we bring it to attention, mainly to throw a spotlight on the terrific original.
For more on-offs or songs with an interesting back-story see From the Vaults.