Graham Reid | | 1 min read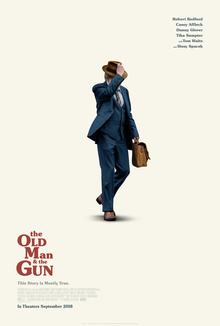 In August 2018,
Robert Redford
announced the film The Old Man and the Gun would be his last.
He was 82 and went out with a very low-key and wry story about the real life recidivist bankrobber and serial prison escapee Forrest Tucker whose final spree was four banks in a single day when he was 79.
That time he didn't live to escape or be freed, he died in prison at 83.
The story doubtless had some appeal for Redford who saw in the droll and unrepentant Tucker a man he would identify with to some small degree: Redford was often escaping from the expectations of Hollywood into small independent films like the terrific Downhill Racer and Jeremiah Johnson.
A feature of the film was the soundtrack by the jazz composer Daniel Hart who has performed with Polyphonic Spree, St Vincent, Swans and Broken Social Scene as well as writing for numerous movies, including Pete's Dragon.
It was quiet closing music in The Old Man and the Gun which was so extraordinary, a considered jazz-cum-classical piece named for one of the banks robbed in the course of Tucker's exploits.
The whole soundtrack is quite lovely – the tracks by Scott Walker (30thCentury Man) and the Kinks (Lola) somewhat interrupt the listening experience, Jackson C Frank's Blues Run the Game less so – and it is worth listening to on Spotify here.
But we single out this for a quiet 6.45 in your busy life.
Settle in.
For more oddities, one-offs or songs with an interesting backstory check the massive back-catalogue at From the Vaults.