Graham Reid | | <1 min read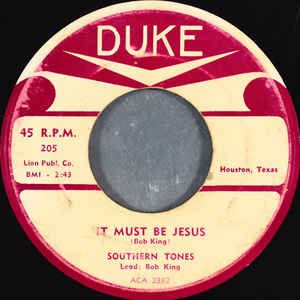 Anyone wondering why Ray Charles copped such a backlash from black preachers and congregations in the late Fifties/early Sixties need only listen to this song by a Southern gospel group and Charles' I Got a Woman released the same year.
You can hear quite clearly where he got the idea from.
He'd heard to song on the radio and loved its drive and passionate intensity and so he took it from the church to the street, from the spiritual to the secular, with his own lyrics.
For some this was a bastardisation of the gospel spirit and making it into something nasty.
But it had been happening before and certainly when Motown arrived it reached its apotheosis.
By the way, there's another school of thought which says Charles heard I've Got A Saviour by The Bailey Gospel Singers which had been recorded in December 1950 . . . or maybe it was Josh White's even earlier There's a Man Goin' Around Taking Names which the Southern Tones drew on . . .
Mists of time, as they say.
Mists of time.
.
For more one-offs, oddities or songs with an interesting backstory see From the Vaults