Graham Reid | | 1 min read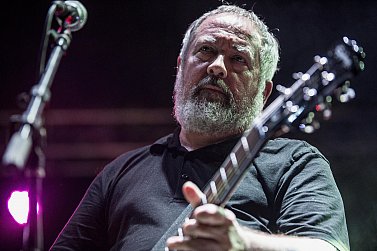 George Harrison's Think For Yourself on the Beatles' Rubber Soul in '65 was very interesting for a number of reasons.
First it was another sign that Harrison was getting a few more songs through the Lennon-McCartney net (on the album he also had If I Needed Someone) but also that he had a pretty dyspeptic nature.
His first song on a Beatles album had been Don't Bother Me (on With the Beatles) and now two more songs keeping people at arms length.
If I Needed Someone says "maybe you will get a call from me, if I needed someone" (suspended emotion and doubt all the way through with "if" and "maybe") and in this one there's an outright rejection: "Do what you want to do, and go where your going to, think for yourself 'cause I won't be there with you".
Hmmm.
The late Pete Shelley (of the Buzzcocks) picks up the pace for this version and by doing so misses the more downbeat mood of Harrison's original . . . which was also notable for a word this writer had never heard in a pop song before, and hasn't since: "opaque".
Harrison sings "although your mind's opaque, try thinking more if just for your own sake".
Hmmm.
To be honest, as a teenager I heard this as "although your mind's up-made".
I don't know what that meant either . . . but the way the Beatles used language meant it seemed a possible inversion of "your mind's made up".
Hmmm.
One of Harrison's more interesting – if vinegary – songs from the Beatles' mid-period.
His gripe about the taxman was in the very near future.
.
For more oddities, one-offs or songs with an interesting backstory check the massive back-catalogue at From the Vaults.