Graham Reid | | 2 min read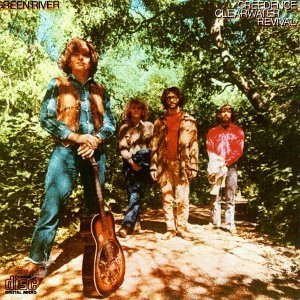 In a freewheeling and enjoyable interview before a solo show in 2005, John Fogerty -- mainman behind CCRevival -- laughed about how at the height of the counterculture in the late Sixties bands like the Greatful Dead and Quicksilver Messenger Service openly expressed envy at his band's success.
They wondered how they couldn't get hit single on the radio, he laughed, but of course they weren't writing tight little slivers of three minute rock. All their songs were like 15 minutes long, he joked, then corrected himself noting they had seven and eight minute songs like their extended version of Suzie Q.
"But that still got on radio!"
It was in the fist-tight sound of CCR's swamp-rock, Fogerty's equally taut vocal style alonngside nailed-down percussion and razor sharp guitar which allowed them to cut through when others couldn't.
Their run of hit singles was extraordinary and has entered the lexicon of rock: Born on the Bayou, Proud Mary, the apocalyptic Bad Moon Rising, Green River, Lodi and Travelin' Band whioch commented on his position as writer/perfomer, Down on the Corner, political songs like Run Through the Jungle and Fortunate Son which appear on just about every soundtrack of the Vietnam war movies, Lookin' Out My Back Door, Up Around the Bend, their 11 minute version of I Heard It Through the Grapevine (which also got on radio), Have You Seen the Rain and many more.
All in fewer than three years.
CCR have entered popular culture on many levels (not the least The Dude in The Big Lebowski having a cherished tape in his battered car) but in the end it should all come back to the songs written and produced by John Fogerty who also sang and played guitar, piano and other instruments.
He was CCR -- the face and voice and brains -- for many, but the pity was the other members didn't see it that way and wanted to play a greater part in the writing. They did and the band faltered and finally John Fogerty quit. Litigation followed and he stopped playing CCR songs for almost 20 years.
When he did he toured to enormous acclaim, and many of his new songs were just as good as his classics.
But it is to the fertile period in the late Sixties we inevitably turn to, like Green River the third CCR album and which contains the hits of the title track, Bad Moon Rising and Lodi among the nine songs on the original vinyl.
The whole album is full of the band's distinctive sound (and there's a throat tearing version of the soul classic The Night Time is The Right Time) and was critically acclaimed at the time, and even now.
We bring it to attention here because -- after the country-rock of The Band, classic Chuck Berry, the harder sounds of The Who and Soundgarden which we have brought to your attention as being now available as modestly priced vinyl remastered and reissued -- we think some of Creedence's classic country rock-cum-pop should be in your growing record collection.

It is just $25 at JB Hi-Fi stores here.
Or buy direct on-line from here.
And we have also written about John Fogerty's solo career, Creedence Clearwater Revival (and the John-less Creedence Clearwater Revisited) at Elsewhere here. Check it out.
For other recommended vinyl albums at a budget price see here.