Graham Reid | | 1 min read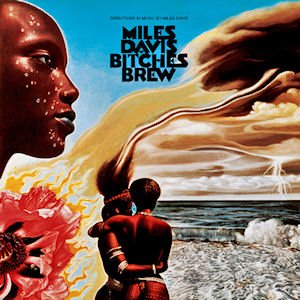 It's a somewhat embarrassing confession for Elsewhere to make – especially given the couple of dozen Miles Davis records on the shelves – that we've never a copy of Bitches Brew on vinyl.
A ratty cassette tape recorded from a friend's album, yes. An early but not very good CD copy, yes. The damn fine Legacy Edition CD set with extra and unreleased tracks, yes that too.
But a lovely edition on double vinyl in a gatefold sleeve? Never.
Until now.
Bitches Brew released in 1970 (subtitled "Directions in Music by Miles Davis") is one of those many pivotal albums in his remarkable, shapeshifting career.
Born of an interest in what Sly Stone, Jimi Hendrix and others were doing in the bridge between various black urban musics, jazz and rock, Bitches Brew remains a free flowing masterpiece which was edited by producer Teo Macero from sessions which were open ended and at times included a cast almost a dozen players (and sometimes more) sitting in. Among them, taking sometimes just very spare instruction from Davis, were Wayne Shorter, Joe Zawinul, Larry Young, Chick Corea, John McLaughlin (who got a piece named after him on the album), Dave Holland, Harvey Brooks, Jack DeJohnette, Billy Cobham . . .

Elsewhere has written at length about his seminal album here – which might have to be called B****** Brew in these hyper-sensitive times – but we mention it now because the double vinyl is just $39 at JB Hi-Fi stores here.
Less in fact. In my local store it was in the ongoing 20% off vinyl sale bin.
Elsewhere now has Bitches Brew on wonderful 180gm vinyl (download included) so a conspicuous gap on the Davis shelf has happily been filled.
You can also buy this direct on-line from here.
For other recommended vinyl albums at a budget price see here.