Graham Reid | | 1 min read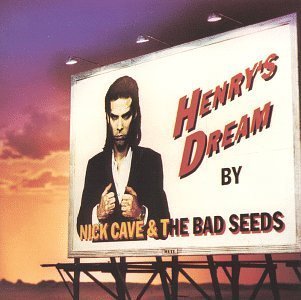 By the time Nick Cave and the Bad Seeds got to Henry's Dream in '92 much had changed in their world: the band line-up had stabilised with bassist Martyn P Casey also officially joining the recording team, Cave had moved to Sao Paolo and found new inspiration in the streets and as well as his new-born son and their move from cult status to more mainstream acceptance was well underway.
Cave – who by now was wearing bespoke suits – was also refining his ballad style where he allowed himself to be more nakedly emotional yet still managing to code his lyrics in such a way as to be both personal and obliquely religious (the lovely Straight To You here).
The raw narrative songs remained (I Had a Dream Joe, Brother My Cup is Empty) alongside his abiding interest in Christian mysticism (Christina the Astonishing) and dark songs grounded in weird old America/British folk ballads (the orchestrated John Finn's Wife, Loom of the Land). And, right at the end, the bruising Jack the Ripper.
Although Cave professed to hate the production by David Briggs (Neil Young producer) over time he became more generous towards it and the album has long been a fan favourite, although some would concede it is a transitional album also.

After 25 years it has stood the test of time and still sounds immediate and affecting.
We mention it here because it has appeared at JB Hi-Fi stores on record for just $25, alongside a number of other Cave/Seeds vinyl reissues.
Another one to add to your expanding record collection.
Buy direct on-line from here
There is a considerable amount about Nick Cave -- including an interview from around this period -- in Elsewhere's archive starting here.
For other recommended vinyl albums at a budget price see here.