Graham Reid | | 1 min read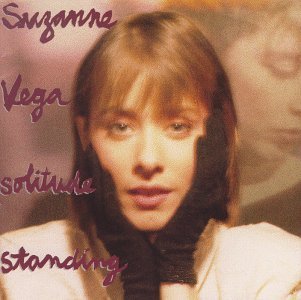 In recent years Suzanne Vega -- who came to attention wth the beguiling Marlene on the Wall song on her self-titled debut album in '85 -- had taken to going back into her catalogue and re-recording her songs as part of her themed Close-Up series.
That was in part a response to her former record company stil retaining owneship of her master tapes.
That the project didn't do as well as she expected should have come as no surprise, the original recordings are all still out there and -- in the case of this, her second album -- now avaiable on modestly priced vinyl.
Solitude Standing was the album that broke her big because it included that compelling but understated song about an abused child (Luka) and the quasi-Beat poem Tom's Diner song which appeared in an a capella version at the start and a fine instrumental version at the end wich was a real stand-alone piece in its own right.
The album was produced by Lenny Kaye (Mitch Easter for one track, Gypsy) and has Shawn Colvin on backing vocals on Luka.
Although she seemed to come from the folkie corner there were also subtle synths in places and it was the most successful album of her career.

We menton it now becase it is available on vinyl at JB Hi-Fi stores here for a modest $25 . . . and we commend it to you as another in or on-going series Hi-Fi Vinyl which allows you to get together a resoanbly priced and very diverse record collection . . . everything from Joy Division through Billie Holiday to Miles Davis and Motorhead.
It's an Elsewhere kinda record collection, on the cheap.