Graham Reid | | <1 min read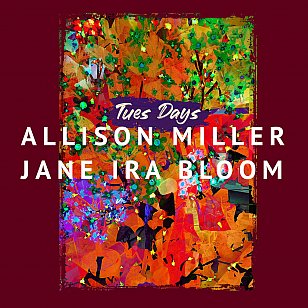 On five consecutive Tuesdays in March and April, New York soprano saxophonist Jane Ira Bloom (who has appeared a few times at Elsewhere) and drummer Allison Miller got together in their respective home studios to record some improvised sax and drum duets together . . . as is the way of it in the 21st century under lockdowns.
The idea wasn't to record an album particularly, but once the project ended they realised what they had: 11 often joyous, freely improvised pieces which hung together and so – after mixing by bassist Mark Helias – they dropped their work onto Miller's bandcamp site as this album.
When they lower the mood right down – as on the yearning and bluesy ballad Rowing In The Dark, the closing reverie of Walk Alone – this takes on a completely different character.
There is whimsical humour here too (This Is It, Crayola) and the duo head further out too (the shape and sound-shifting Wild Frontier)
So over the course of this hour, you are taken on a journey courtesy of the warm sound of soprano sax and the most discreet support from a deftly touched drum kit.
.
You can hear and buy this album at bandcamp here