Graham Reid | | 3 min read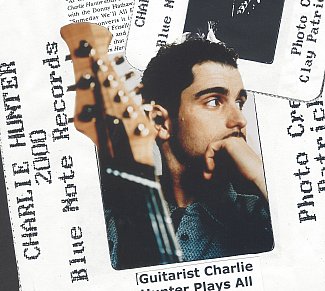 Five years ago, in a smart career move, hot young jazz guitarist Charlie Hunter crossed from the jazz margins into the mainstream with a cover of Nirvana's Come As You Are on his first album for the venerable Blue Note label. That took him onto college radio and to an audience closer to his own age.

He's carved an idiosyncratic path since. Subsequent albums have included a cover of Bob Marley's Natty Dread album (Blue Note asked for a covers album, the Marley was his choice); he's a led a three-guitars/one-drummer outfit; done a duo album with percussionist Leon Parker. His latest album, Return of the Candyman, sees him under the band name of Charlie Hunter and Pound For Pound with a vibes player, drummer and percussionist.

Oh, and did we mention he plays an eight-string guitar, has a sophisticated Website (which encourages fans to tape his concerts and pass on to friends), and played in Auckland seven or eight years ago with Disposable Heroes of Hiphoprisy?

So, Charlie Hunter from Brooklyn is not quite your standard jazz guitarist and a restless spirit. Not too many guitarists like to put themselves into the naked format of duets with a percussionist, as he is doing here next week with Adam Cruz.

"That's true, but I believe you have to put yourself in an uncomfortable position to challenge yourself. I feel it's become a comfortable thing now - not too comfortable, but comfortable enough so I can get some art out of it." Personable and witty, Hunter knows he poses problems for his record company when he walks in with an album heading in yet another new direction.

"Yeah, they are good people at Blue Note and they are music people - but they are afraid of trying to sell something that might pose difficulties. However my natural inclination is to make music that is accessible because I try to play from the spirit and soul. That's what people respond to.

"I'm not going to make a record of me and white noise and somebody screaming. I'm going to do something not so outside."

On his latest album he follows his pattern of tossing in a pop cover, this time a cool mood treatment of the Steve Miller Band's Fly Like An Eagle. And, it turns out, his Come As You Are cover wasn't quite as calculated as it might appear.

"To be honest, my wife had that record and I heard that song. I'm not a big fan of the way Nirvana execute songs but I really thought [Kurt Cobain's] songwriting was great so I did Come As You Are because I could hear it with that 6/8 groove on it."

Hunter's jazz audience is predominantly under 35, he says, and "when you play honest music which comes from an honest representation of what you are, people are drawn to it, particularly people who have had similar experiences.

"And the younger generation should be doing something that exemplifies what they are, just as Art Blakey, Charlie Parker and Louis Armstrong did. They all did something which represented them -- and we have to be honest, you are never going to be able to play Body and Soul like Coleman Hawkins did in 1928 because that is a seminal recording from a time and place and history.

"You can't put 1928 into 1999 because it's just going to be a pale imitation. I feel liberated that I don't have to be part of any jazz community or be accepted by any community. You can see it as a detriment because you are on the outside, or you can see it as positive because you create your own community and make music which is more honest."