Graham Reid | | 1 min read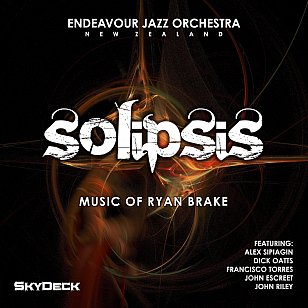 Although this country has had a lineage of big bands and a few jazz orchestras, the economies of touring and recording have meant our albums have mostly been of smaller groups.
This one in the age of digital releases however – recorded by Dave Lisik at the NZ School of Music at Victoria University in Wellington – is a no-holds-barred, widescreen blockbuster with a large ensemble of horns which includes some familiar names: Roger Manins, Colin Hemmingsen, Mike Booth, Lisik himself, Rodger Fox and Nick Granville among them.
The guest soloists here are Dick Oatts (alto sax), Alex Sipiagin (trumpet), Francisco Torres (trombone), John Escreet (piano) and John Riley (drums) . . . although special mention should also go to guitarist Granville for his slow build solo on Sycosis and Psychosis.
Dedicated to mostly recording the music of New Zealand composers, here the EJO have charts by Ryan Brake (now Dr Ryan Brake of Victoria Uni) who writes beautiful challengingly scores for this big ensemble: check out the track entitled – I kid you not – Infectious Diseases in Cattle which swings like busy, urban Ellington caught up in irritating gridlock horn-honk NYC/AK traffic but which then eases towards some cool West Coast jazz (Upper West Side/Morningside off-ramp) where Oatts picks it up and takes it to a sophisticated club where an approving Paul Desmond is in the audience.
There's enormous vibrant energy here – The Burning House is like a snappy soundtrack to an early Sixties detective drama
And right at the end Lighting An Obscure World gets into the space between a jazz orchestra and a tough post-bop intrusion (Escreet ripping the material to idiosyncratic and furiously abstract shreds) before it, some what weirdly, returns to some mad central melodic space.
Whatever it is Ryan Brake writes, and however these players explore it, he's doing something very different in the canon of Aotearoa New Zealand jazz.
And we're the better – if perhaps a little more terrified -- for it.
.
You can hear and buy this album at bandcamp here