Graham Reid | | 1 min read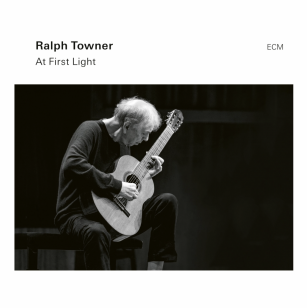 Acoustic guitar master Ralph Towner has been on the prestigious ECM for more than five decades, his debut for the label back in 1972 with Trios/Solos.
On that album for some pieces he had bassist Glenn Moore, tabla player Colin Walcott and oboe player Paul McCandless of the band Oregon which he'd founded a couple of years previous.
Oregon – 30 albums listed on Towner's website – were in the vanguard of world music which indicates how wide-open to influences – from Coltrane to the Indian sub-continent – Towner was, and remains.
Over the decades Towner has recorded and/or toured with artists as diverse as vibes player Gary Burton, pianist Keith Jarrett, guitarists Egberto Gismonti and Robben Ford, saxophonist Jan Garbarek and bassists Eberhard Weber and Charlie Haden.
Now 83, Towner's gifts are undiminished as this lovely solo album confirms.
He mostly plays deft and demanding originals (if you are a guitarist try your hand at Guitarra Picante) but here too are the traditional Danny Boy (teased apart and reconstructed), Hoagy Carmichael's typically idiosyncratic Little Old Lady and Jule Styne's lovely ballad Make Someone Happy.
The title track is a thoughtful piece of shifting dynamics with melodies emerging and dissipating, Argentinian Nights is a refined miniature and the album closes with Empty Stage which is more sprightly than the melancholy title might suggest.
Ralph Towner is always worth hearing and – especially with an album like this -- when you have some quiet time to just sit and listen.
.
You can hear this album at Spotify here