Graham Reid | | <1 min read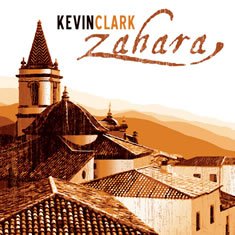 Wellington pianist/composer/arranger Clark won best jazz album of the year in 2003 with Once Upon Song I Flew, and again two years later with The Sandbar Sessions.
Clark is something of a rarity in New Zealand jazz, he has an internationalism about his music and thinnks nothing of incoprorating what we might call "global elements" into his originals which move from blues to ballads and Latin bounce to slight Afrobeat tunes.
This Latin and Middle Eastern-flavoured album, released late last year, bristles with musical ideas and energy which cover considerable geography (from Cuban clubs to flamenco Spain and Brazilian carnival). Clark, who also plays trumpet and flugelhorn, doesn't shy away from delicate ballads either: the spare River Weep For Me sounds like a contemporary classic, and Pienselo is a soulful standout among the many intelligently crafted but emotionally muscular tunes.
With singer Fran Barton this is an album which dances, ponders and is witty (Here Comes Another Crazy Song), and deserves wide exposure and acceptance.