Graham Reid | | 1 min read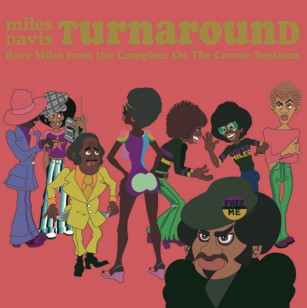 When Elsewhere wrote at length about The Complete On The Corner Sessions six-CD box set last year we noted that in '72 when Miles Davis started pulling musicians together for what would become the street-funk On The Corner, no one had much idea what the trumpeter might have in mind.
Among the crew who came and went were guitarist John McLaughlin, Colin Walcott and Khalil Balakrishna playing electric sitars; drummers Billy Hart, Al Forster and Jack De Johnette; Herbie Hancock and Chick Corea on keyboards, soprano saxophonist Dave Liebman, and bassist Michael Henderson.
None of them were credited on the cover.
This was electric funk improvised in the studio and pieces faded together by producer Teo Macero.
Most critics disliked it (Davis had ceased to be taken seriously by many jazz writers after Bitches Brew) and it failed at the box office. Davis said that's because the label didn't get that it was for a young black funk audience and not white jazz radio programmers.
That big box of the complete sessions certainly prompted a re-think because you could hear some of the studio jams in their entirety.
Turnaround is a four track collection of this fusion funk with wah-wah guitars and Davis' trumpet, Michael Henderson's prominent and anchoring bass, assertive drumming and . . .
It's messy and seemingly undisciplined in places but meets the brief that Davis had in mind: streetwise jazz-funk for a generation which had come of age with Sly and the Family Stone, Jimi Hendrix and found its way to blues through Muddy Waters' Electric Mud.
When it was recorded some of the Black Panther radicals had moved into ground-level work in communities, the war in Vietnam was raging on, Richard Nixon was in the White House and John Shaft in movie theatres, and discontent was everywhere in working class black communities blighted by unemployment, the deaths in Vietnam and a flood of heroin.
To a great extent the urgency and chaotic nature of the 12-minute The Hen here encapsulates all of that. It wails and cries and is aggressively crosscut by Davis' furious trumpet over boiling percussion.
Davis' talking trumpet channels a sense of despair on Big Fun/Holly-wuud (the third take).
Fortunately the sinky, funky and more spare opener Jabali is an approachable introduction to this collection of commanding sounds from Davis and his fellow travelers.
Not easy. But nor was 1972 in black America.
.
You can hear this album at Spotify here
Elsewhere has a considerable amount about Miles Davis, including an archival interview. Start here.