Graham Reid | | <1 min read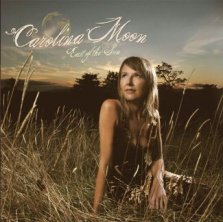 Even more New Zealand jazz. And different again. Moon began her career in London more than a decade ago, moved to Australia (where as Caroline Lynn she won considerable media praise) and then came to New Zealand.
She is now married to saxophonist Roger Manins who appears here, along with pianist Kevin Field, guitarist-for-all-seasons Nigel Gavin, drummer Chris O'Connor, Oliver Holland on bass and accordionist Herschal.
Quite a crew of local talent.
Moon's style is a low, breathy, assured and beautifully articulated intimacy, and her song selection is interesting: rather than fall for an easy -- and easily marketable -- collection of standards she includes fine treatments of the Doors' Light My Fire (in which Gavin excels), adds her own lyrics to a piece by the late Jann Rutherford, drops in Bizet's Habanera, and goes all chanson-vibrato on Sous le Ciel.
Yes, she opens with the standard Call Me and later adds Ellington's Prelude to a Kiss and Billy Strayhorn's A Flower is a Lovesome Thing, but the latter two are hardly threadbare to most listeners . . . and she (and the musicians) pull them off with rare skill.
Moon has previously explored a world music/jazz fusion crossover and writes her own material, but here she sits back on a fine collection of songs which is warm, emotional and quite enchanting.