Graham Reid | | <1 min read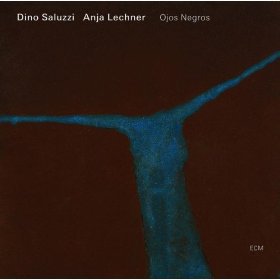 Argentinean bandoneon player Saluzzi (along with Astor Piazzolla) is widely and correctly credited with bringing this instrument to universal attention through his early work with jazz musicians such as Gato Barbieri.
Given his intense and often dramatic style, he also found a natural home on the ECM jazz label where he worked with the likes of Enrico Rava, Charlie Haden, Tomasz Stanko, and had his own trio and quartet albums. He also appeared with the Rosemunde Quartett -- a classical outfit -- for the album Kultrum in the mid 90s which showcased the chamber music aspect of Saluzzi's compositions outside of the folk/tango he was best known for.
With violoncello player Lechner of that quartet, Saluzzi here again writes poised, evocative and romantic pieces which have references in folk and slow, sad tango, but also allow room for improvisation.
There is deep, intellectual romanticism at work here which can at times be darkly introspective and melancholy (the moving, eight-minute Esquina) but equally be joyously celebratory and uplifting.
The combination of the two instruments allows for considerable emotional colour and the recording of this collaboration (they have played as duo for six years now) is an ECM milestone.
It can be intense, but it is also filled with palpable human emotion.