Graham Reid | | <1 min read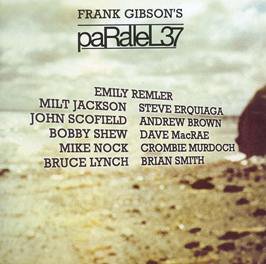 Auckland jazz drummer Gibson has had a career that stretches back to the late 50s and he made his debut at age 8 on the stage at the Auckland Town Hall playing a duet with his drummer dad.
Since then he's played with everyone from Leo Sayer to Milt Jackson, and everywhere from Abbey Road and the Montreux Jazz Festival to some of the least attended clubs in Auckland.
Quite some career.
The original Parallel 37 release won jazz album of the year in '82 and now gets a long overdue reissue. It places Gibson alongside some of the big names in jazz locally and internationally at the time: guitarist John Scofield in his pre-Miles Davis years, the great Mike Nock and (now late) Crombie Murdoch . . . and the re-release adds in tracks from the promising American guitarist Emily Remler who played her last studio sessions with Gibson and died in Australia shortly afterwards.
An excellent reissue.
There is a major profile of Frank Gibson here.