Graham Reid | | 4 min read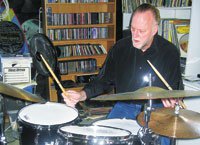 Early in 2007 I would get calls from Frank Gibson, who some say is arguably this country's finest drummer. I would have thought that was beyond argument myself.

Frank was asking what he could do, how he might capitalise on a playing career that had taken him around the world, won him numerous awards and the acclaim of musicians across at least two generations, seen him play with some of the best the jazz world could throw at us -- for more than a decade he and the late bassist Andy Brown were New Zealand's house rhythm section for touring jazz giants and lesser lights -- and now . . .

He was still teaching (he noted his students got stories about themselves in music magazines but he couldn't) and still playing the odd gig, but . . .

It struck me as absurd and wrong that here was someone who -- if he was in the States or Britain would be feted and acclaimed -- should be looking for work, applying for financial assistance (and being declined) to record in LA once more with his friend and Grammy-grabbing pianist Alan Broadbent, and trying to figure out how he could get the acclaimed ex-pat pianist Mike Nock back to record with him again.

Gibson's musical credentials are beyond comparison in this country (I doubt he could count the sessions he has played on) and yet . . .

Then in the latter part of last year the jazz-fusion Dr Tree album from the mid 70s was reissued and that band -- Gibson, guitarist Martin Winch, keyboard player Murray McNabb and others -- played a one-off gig.

Gibson underwrote his LA trip and recorded again with Broadbent for an album, and now the Parallel 37 album of '81 -- Gibson with Milt Jackson, Nock, John Scofield, Bobby Shew and others -- has been reissued.

When you add in the reissue of the superb Open Door album from '86 with Mike Nock, and Rainbow Bridge by the Frank Gibson Quartet of 2003 there is a lot of Frank around. The man probably has own section in some shops, he certainly deserves to.

Gibson is now a fraction past 60 but has the restless creative energy of someone half his age. His dad, also a Frank, was a jazz drummer and this Gibson played a duet with him at the Auckland Town Hall when he eight.

Frank's career after that is remarkable: gigs with McNabb while in high school; playing the Mont Martre with the Mike Walker Trio as a teenager; in Broadbent's trio and various Claude Papesch bands; a couple of years in Sydney with Andy Brown; home to form Dr Tree which won two rock awards for their sole, self-titled album; backing Dionne Warwick, the Temptations and other touring acts; a world tour with Leo Sayer; UK gigs with Dusty Springfield; the Montreux Jazz Festival; recording at Abbey Road . . .

And we aren't even into the 80s.

Then there were the Space Case albums (Executive Decision in an eye-catching cover of two naked ladies' taut backsides); the Parallel 37 album which won jazz album of the year in '82 . . . It just keeps going. At some point he quit smoking and drinking and so on and started to get really serious.

Along the way he has recorded some of this country's finest jazz: Open Door should be in any intelligent music collection and it is welcome news he and Nock will record again this year.

The CD reissue of Parallel 37 puts a terrific Kiwi jazz album back in the spotlight: where else could you hear artists as diverse as locals Brian Smith, Bruce Lynch, Andy Brown, and Crombie Murdoch (the last two now passed on) in the same context as internationals like guitarist John Scofield (recorded before he hit the big time playing with Miles Davis), the legendary Milt Jackson, guitarist Steve Erquiaga and others?

Well, in Frank's company actually, he is the constant on Parallel 37.

The reconfigured reissue adds a poignant touch: in early 1990 the gifted US guitarist Emily Remler came here and was, at 32, considered the rising star of her generation. She was an accomplished rock and jazz player, had recorded with Larry Coryell, and Herb Ellis considered her "the new superstar of the guitar".

She played a great concert at the London Bar and this woman who could be picky about whom she might record with went into a studio with Frank. She knew she was with her musical equal -- but they were to be her last recordings. She died in Sydney a week later.

Those three previously unreleased and quietly sensitive tracks have sensibly been added to Parallel 37, a world class album by any consideration.

In notes on the Jazzmobile album of '87 Frank wrote how he felt privileged to express himself through the art form created by Louis Armstrong, Lester Young, Bud Powell, John Coltrane and others. He said the music these great men gave should always be treasured.

It is fitting Frank Gibson can see, through the reissues, that some are recognising what he has given should equally be valued.