Graham Reid | | 6 min read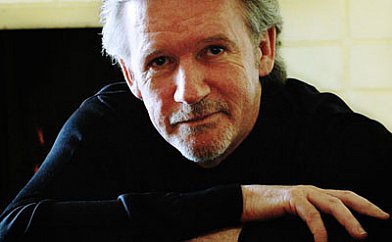 To my horror recently, I realised it had been almost a quarter of a century since I first interviewed the LA-based expat jazz pianist Alan Broadbent. It was 1984 and he was briefly back in Auckland to play a show and record an album with New Zealand's in-house rhythm section of drummer Frank Gibson and bassist Andy Brown.
At the time I had founded, was editing and writing much of the copy for an ambitious magazine called Passages . . . A Magazine of Jazz and Elsewhere.
In the intervening decades Alan went on to win even more Grammy nominations and awards for his compositions and arrangements for the likes of Charlie Haden's Quartet West and Natalie Cole.
And I kept scribbling away, going on to work at the Herald where I would sometimes interview Alan again on the back of another award, tour or album, and on to founding Elsewhere.
But to this day I remember very clearly going to Alan's parents' home in Onehunga and sitting in their comfortable lounge while Alan modestly and with great self-deprecating humour offered a potted biography of his life to that point.
For Passages I wrote: " Alan Broadbent is one of the easiest people to talk with. He is also a delight to listen to. He is articulate, humorous and oftentimes disarmingly frank. He speaks quietly with a soft accent that reminded me of John Cage's voice. And like John Cage, his conversation is punctuated by lengthy thoughtful pauses. The words, when written on the page, can barely capture his warmth. I wish you had been there."
Recently I spoke to Alan again, by phone this time. He was in LA nursing "some weird European flu" he picked up while touring with Quartet West. But he still sounded in good spirits, and despite the high profile he now has internationally on the back of seven Grammy nominations he laughed, "I swear to God this is the only profession I know where you can be internationally famous -- and broke. There's not much call now for orchestras with singers."
Auckland-raised Broadbent -- who has lived in States for over four decades -- is in the lineage of legendary arrangers such as Nelson Riddle (with whom he spent 10 years as his pianist), Henry Mancini and Quincy Jones.
He no longer works with Natalie Cole since she has been sidelined by Hepatitis C, but he plays regular jazz gigs at the famed Italian/jazz restaurant Spazio in the Valley ("pouring my heart out while someone is slurping noodles'), he has arranged for and toured with Natalie Cole and Diana Krall, conducted the touring orchestra for Elvis Costello's ballet suite Il Sogno, and recently he accompanied Michael Feinstein who has been acclaimed as among the best interpreters of the Great American Songbook.
He writes his own music and has recently recorded with Gibson again, tours with Quartet West when Haden wants to wear his jazz hat, and otherwise takes work when it presents itself.
"I never know from one week to the next [how we'll survive]" there is also a necessary coda. "But that's the way I have always wanted it, and my family bear with me."
Married now with an eight-year old son, Broadbent was recently called by Jazz Times recently "one of the major keyboard figures of the day" and when he comes back to New Zealand this weekend he will be made a Member of the New Zealand Order of Merit for his services to jazz.
And of course he will fit in a concert with Gibson and 19-year old bassist Tom Dennison ("a young guy Frank has discovered who has the spirit") at the SkyCity Theatre on Sunday evening.
"We'll play a few standards, some of my compositions, something by Charlie Parker and Body and Soul, I always have to do Body and Soul".
"Basically the same shit we were doing at the Embers," he laughs, a reference to the Auckland club where he played after leaving Marcellin College at 15.
Broadbent's international career began shortly after those schoolboy days.
He worked as a signwriter on leaving school while playing jazz in clubs, sent "a little acetate of a trio that I had" to Downbeat magazine and won a scholarship to Berklee College in Boston for a semester of study.
"I fell right into it," he told me in 84. "At that time it was Tony Williams and Miles, and that was what was happening here too with Kim Paterson and others. So when I got to Berklee I fell right in with some friends with the same idea."
He started playing solo piano in small hotel lobby called My Apartment Lounge ("Misty, Shadow of Your Smile, some beautiful Johnny Mandel tunes and the usual things") and one night a couple came in who had plans to open a jazz club, they invited him to form a regular trio, and that became his first serious immersion in the jazz scene around Boston.
"It was right around the corner from the Jazz Workshop so every week something was happening. Miles was there with three piano players: Chick Corea, Herbie Hancock and Wynton Kelly. I got to hear those kinds of musicians and I began to absorb all of that. Bill Evans was there once every three or four months - I'd sit under the piano!"
He started taking piano lessons from Lennie Tristano in New York ("we became close friends in the sense of mentor and student") and at the height of the fusion era he was opened up to a new way of listening.
"To me jazz is the art of time, subtlety, beauty of time, and as a consequence not everybody has it, but in my opinion anyone can have fusion time. I don't go to [fusion] for truth, I guess I go to Bird for truth."
In 1970 he hooked up with Woody Herman's band when Nat Pierce and Jake Hanna came into My Apartment Lounge and told him that Woody needed a pianist. The band had seen better days, was unprofessional and playing "Elks clubs, terrible dance gigs and stuff".
But Broadbent used the opportunity to write some horn-based charts in the manner of Blood Sweat and Tears and he presented them to the band leader.
The crowd went wild when they played the big band arrangements of Proud Mary and rock tunes of the period, he got his first Grammy nomination for his arrangement of Children of Lima and although the phone didn't ring as a result, people such as Percy Faith were helpful.
He moved to Los Angeles where he has lived ever since and the roll call of genius he has worked with started: Percy Faith, Johnny Mandel, Henry Mancini and Nelson Riddle who he was with for 10 years.
"You know, when I was about 14 or 15 I discovered that Sinatra album In The Wee Small Hours [which Riddle arranged] at the Onehunga Library, then later I'm sitting on my couch in Los Angeles in the early 70s and I get a call to go down and play a Saturday night gig with some big band. I'm there looking at all those old guys, and out comes Nelson.
"That was my first gig with Nelson. It's funny how things come around in life, isn't it?"
When Broadbent speaks of his career he rarely refers to himself but deflects attention and praise towards others. He works with Krall when she is touring (he's had the call for dates in Canada) and through her met her husband Elvis Costello. That lead to the Il Sogno dates.
"It is a fascinating piece and beautifully written. Some of the songs are so gorgeous, there's one called And the Birds Will Still Be Singing that can make your knees wobble."
Among the seven Grammy nominations since 1975 have been those for arranging and conducting with Mel Torme, Scott Hamilton, Marian McPartland, Sheila Jordan and Natalie Cole. In 1997 he won with an arrangement for Cole, three years later he picked up another with an arrangement for Quartet West featuring vocalist Shirley Horn.
In the early 80s he also wrote for the New American Orchestra which worked with the likes of Quincy Jones and Sarah Vaughan. He has written for a string quartet and full orchestras, but loves playing jazz in small groups.
When conversation turns to Quartet West -- they celebrated a 20th anniversary recently -- he modestly shifts attention away from his invaluable contribution to that group's material and arrangements.
"I write for the quartet when I'm inspired by Charlie's vision of the Raymond Chandler era and the LA of the 50s -- which is ancient history for us, like Notre Dame! Charlie is 70 years old and just come back from a concert at Carnegie Hall with his triplet daughters, son Josh and half of the Nashville studio players.
"His father was from Springfield, Missouri and had a radio programme in the 40s and Charlie sang on it when he was two years old. He was in the Haden Family who were famous in country music.
"So he brought these country people together and he's very excited about it, but also worried because he doesn't know what the jazz contingent will make of it. I had nothing to do with it.
"I told him there was only so far I could go with four chords," he laughs. "I'd need to change key or something."
And despite more than 40 years in the States he is still regularly described as a "New Zealand pianist".
"Yeah, Charlie refers to me like that, and they do in Europe too. When I left here as a teenager I was entering the void, another world.
"I think it says something about how international the music has become.