Graham Reid | | 4 min read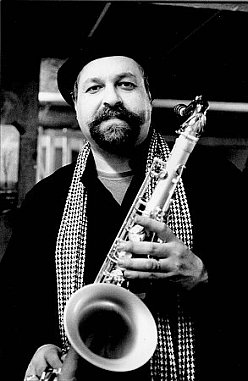 About a month ago I was in New York and spoke to Bruce Lundvall, head of the Blue Note label. Lundvall is a jazz man from way back and has been a major player in shaping careers. He worked the jazz catalogue at Sony back when it was called Columbia, left to start the Elektra Musician label for Warners and has been helming Blue note for two decades.
He signed Wynton Marsalis to Sony, at Elektra Musician he undertook a hefty reissue campaign, and his current charges at Blue Note include Norah Jones, Cassandra Wilson and now Wynton again who he's just signed up.
Lundvall's a man who has seen the waves of jazz popularity and is now surfing a big crest.
Blue Note has a terrific roster of emerging artists currently, a back catalogue second to none and then all those mid-careerists like saxophonist Joe Lovano, one of the finest tenor players of his generation.
But that's Lovano's problem as I put it to Lundvall.
At 53 Lovano is of that lost, middle generation: neither young and hip, not old enough to be a senior statesman in the manner of Joe Henderson, Pharoah Sanders or Ornette Coleman. Kind of lost in the unmarketable mid-zone. He's also recorded swag of albums already so the question I put to Lundvall was, "Why should I or anybody be interested in yet another Lovano album?"
Lundvall was polite.
Yes, he conceded, Lovano has recorded a lot of albums. But they have all been very different. Joe doesn't repeat himself and that's what makes his career and albums interesting.
Back home a fortnight later, I looked at the Lovano albums on my shelf, some of which have admittedly only received a couple of plays. But, as Lundvall said, the diversity of musical settings has been impressive and Lovano's confidence in each, thoroughly consistent.
He has recorded in trio settings and with orchestras, done his thing with voices and strings and paid tribute to Broadway tunes. In the late 90s he formed Saxophone Summit with Dave Liebman and Michael Brecker (the latter replaced on his death by Ravi Coltrane).
Lovano's awards have been so frequent it's almost possible to overlook them through sheer familiarity.
In 2003 he won the DownBeat critics' poll as best tenor player; the year before the New York Times put his Viva Caruso album in its top 10; in 2001 DownBeat voted him jazz artist of the year, best tenor player and his album 52nd Street Themes the best album (with his Flights of Fancy in at third place); and that year saw him picking up a few awards from other jazz magazines.
The list goes way back to '94 when he was nominated for a Grammy for the first time.
Lovano has a tough yet smooth tenor tone – some have likened him to a more polished Sanders, others hear a soft Sonny Rollins – and so his project of ballads I'm All For You in 2004 seemed long overdue.
The album (his 16th for Blue Note!) sees him with a dream band: bassist George Mraz, drummer Paul Motian and pianist Hank Jones.
Mraz and Jones have played together for years in Jones' own trio, and Motian and Lovano have been together off and on since '81. That's what they call "a good fit" and on the breathy, smooth ballads they sound entirely comfortable in sitting back in the melodies and taking them where they will.
And Lovano effortlessly takes you on a journey, never too far out, in his solos.
Lovano grew up in Cleveland and started on alto as a kid at the feet of his tenor-playing father, Tony. He attended Berklee in Boston where he met those other great players' of his generation, guitarists John Scofield and Bill Frisell, with whom he would consistently collaborate.
After college he joined organist Jimmy Smith's band then toured with Woody Herman's Thundering Herd in the late '70s. Through the '80s he played with the Mel Lewis Orchestra in New York City but also worked in Motian's band.
The man is immersed in music but it wasn't until the 90s that he started to find his own voice and signed to Blue Note. His third album for the label Universal Language (with Judi Silvano providing wordless vocals) immediately grabbed critical attention and his rep was consolidated with his '94 release Tenor Legacy with Joshua Redman which earned him that Grammy nomination for Best Small Jazz Group.
It's been all up – and outward musically – from there.
He has played in Carla Bley's big band and done experimental music with pianist Kenny Werner. He's hard to pin down.
He followed up a tribute to Sinatra with an album of duets with Cuban pianist Gonzalo Rubalcaba, he's sparked off Greg Osby and played in nonet settings. He has explored material by Ornette Coleman, John Coltrane and Thelonious Monk as well as the great Italian opera singer Enrico Caruso.
Guitarist Scofield says this of him: "Joe's just a force of nature and is always going to play great every night. He swings so hard, and gets some beautiful sounds, he's so melodic but also so rhythmic. When he plays the music starts to swing no matter what.
"We both started out at Berklee together in about 1972 and I loved his playing when I first heard him and I still do, and he's someone who has really inspired me."
But the new album finds him easing back without easing up.
The world hardly needs another treatment of Stella By Starlight perhaps, but the title track opener (built on the changes for Body and Soul) sets such a warm and welcoming tone, and almost casual intimacy, that it sweeps you up then settles you down.
No one going to suggest that there is anything groundbreaking about this album. It is what it is: gentle and intelligent explorations of the ballad form with Lovano's tenor – sometimes fluttering like a sparrow's heart, at other times nailing a melody by distilling it to a few crucial notes – guiding like a candle in a distant window on a foggy night.
It is music of interior expression – refined and engaging. So no, don't come to it if you want jazz that grabs you by the throat or pushes to the outer limits. That doesn't happen here although plenty of other Lovano albums provide that.
Meantime though, stoke up the winter fire and open a good merlot.
With I'm All For You Joe's got you the soundtrack for quiet reflection.